Meet Dr. Branwell
Dr. John P. Branwell, D.P.M., C.Ped.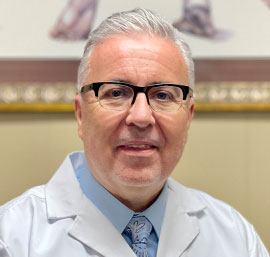 Dr. John P. Branwell, D.P.M., C.Ped.
We all know that when your feet hurt, EVERYTHING hurts! That is why Dr. Branwell wants you to feel comfortable with who is caring for you and your feet. We treat patients of all ages (6 months old to 100+) and are concerned about their total health and well-being.
A third generation Kearny native and resident, Dr. John P. Branwell is celebrating 24 years of private practice in this great town! He was educated in the Kearny Public Schools and went on to receive his Bachelor of Science degree in Biology from Memphis State University (now University of Memphis) in 1985. After attending one year of a Masters program at Fairleigh Dickinson University, Dr. Branwell went on to receive his Doctor of Podiatric Medicine degree (D.P.M.) from Dr. William M. Scholl College of Podiatric Medicine (Chicago, IL) in 1990. He was a member of the Student Chapter of the American College of Foot Surgeons and participated in numerous foot screenings in Chicago's homeless shelters.
Dr. Branwell completed two residencies (VA Medical Center- East Orange, NJ and Roseland Surgical Center- Roseland, NJ) before entering into privare practice February 1999. He is a Diplomate of the APMSB and active member of the American Podiatric Medical Association.
Dr. Branwell is also a board- certified Pedorthist (C.Ped.), specializing in fitting and dispensing diabetic footwear and custom orthotics. He his honored to be only a select number of podiatrists across the country who have completed this vigorous course.
In addition to lecturing to community organizations, Dr. Branwell serves on the Kearny Board of Health and the Advisory Board for the Salvation Army (Kearny Corps). He is an active member and past President of the Kearny Optimist Club. And yes...with the love and encouragement from his two beautiful daughters, Dr. Branwell will be appearing in stage productions with the West Hudson Arts and Theatre Company (What Co) this year! As a fun fact, he made is television debut in 2018 as a contestant on Wheel of Fortune! He has previously held certification as an AFAA Group Fitness Instructor and Zumba instructor and continues to encourage his patients to keep active and to promote foot health.
Dr. Branwell has the privilege of currently serving as President of the New Jersey Podiatric Medical Society.