Meet Dr. Branwell
Dr. John P. Branwell, D.P.M., C.Ped.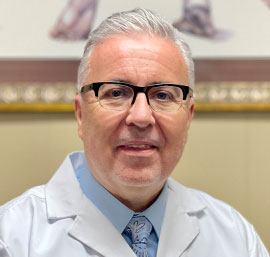 Dr. John P. Branwell, D.P.M., C.Ped.
We all know that when your feet hurt, EVERYTHING hurts! That is why this office wants you to feel comfortable with who is taking care of you and your feet. We treat patients of all ages (from 1 year to 100+) and are concerned about their total health and well-being.
In addition to providing lectures to community organizations and meetings, Dr. Branwell is an active member and past President of the Kearny Optimist Club. He also serves on the Advisory Board for The Salvation Army Kearny Corps and Board of Trustees for The Pioneer Boys and Girls Club of Kearny. As a former AFAA Group Fitness and Zumba Instructor, Dr. Branwell continues to encourage his patients to keep active and promote foot health!